Grab New Joiner Incentives
Grab Driver Partner can enjoy up to 100% Commission rebate. All new sign-ups must be activated from
3 Apr 2023 to 28 Apr 2023 
to be eligible for this incentive
Grab is making an effort to increase its Driver pool with new sign up of Grab driver partner account. If you are keen but do not have PDVL yet, you can find out more about the PDVL requirement. 
If you are an ex PHV Driver You would qualify for the New joiner incentive too. you may rejoin if you:
Are registered on any Grab verticals like Grab food Deliveries and etc
inactive on Grab platform for more than a year
Had your PDVL/TDVL and Road Tax expire previously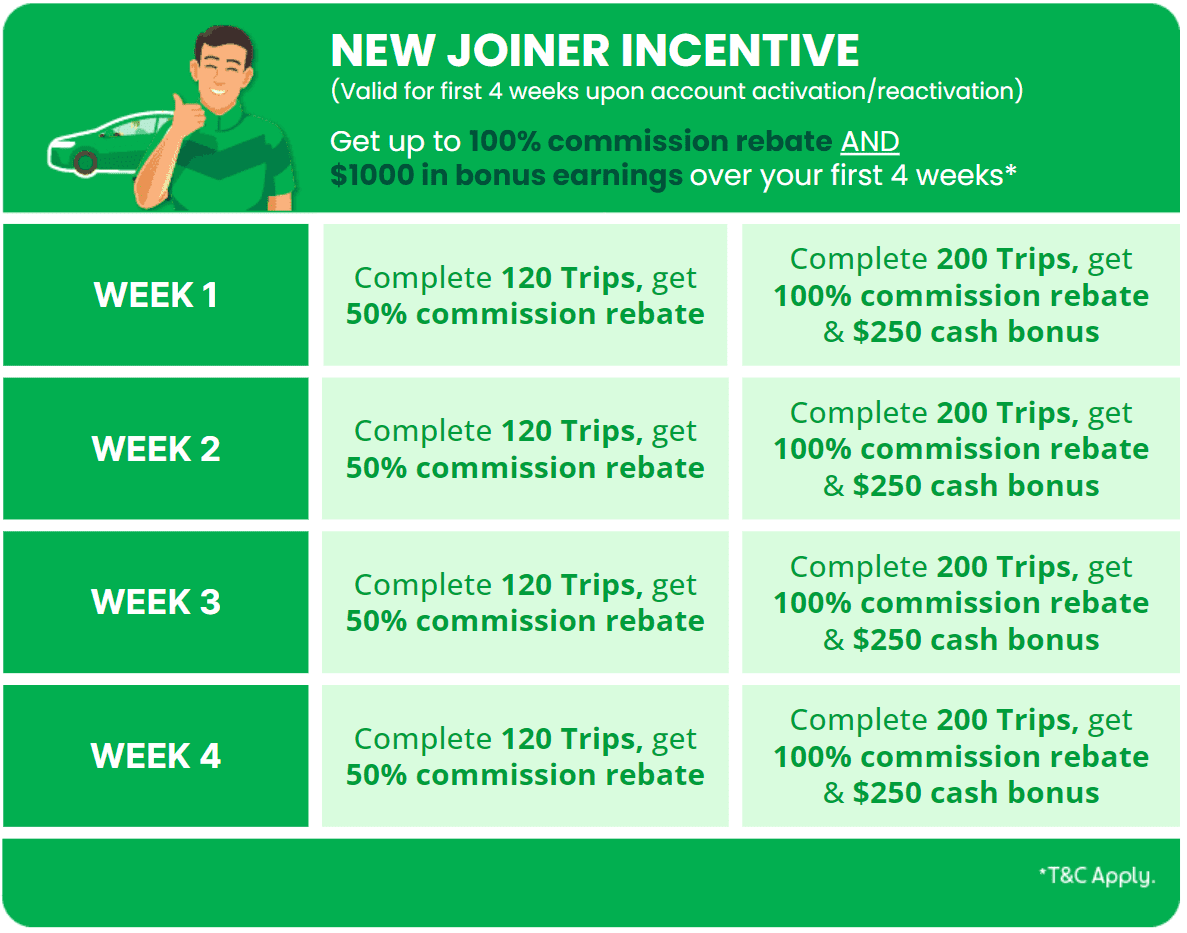 Documents you need to bring for the registration as below.
NRIC
Driving License, not more than 17 Demerit Points
Vehicle Rental Agreement
Either TDVL or PDVL
Vehicle Log Card (Z10/Z11)
Get your Commercial Motor Car Insurance and bring down the documents


Your incentive will begin depends on when your account is activated. See below Image for illustration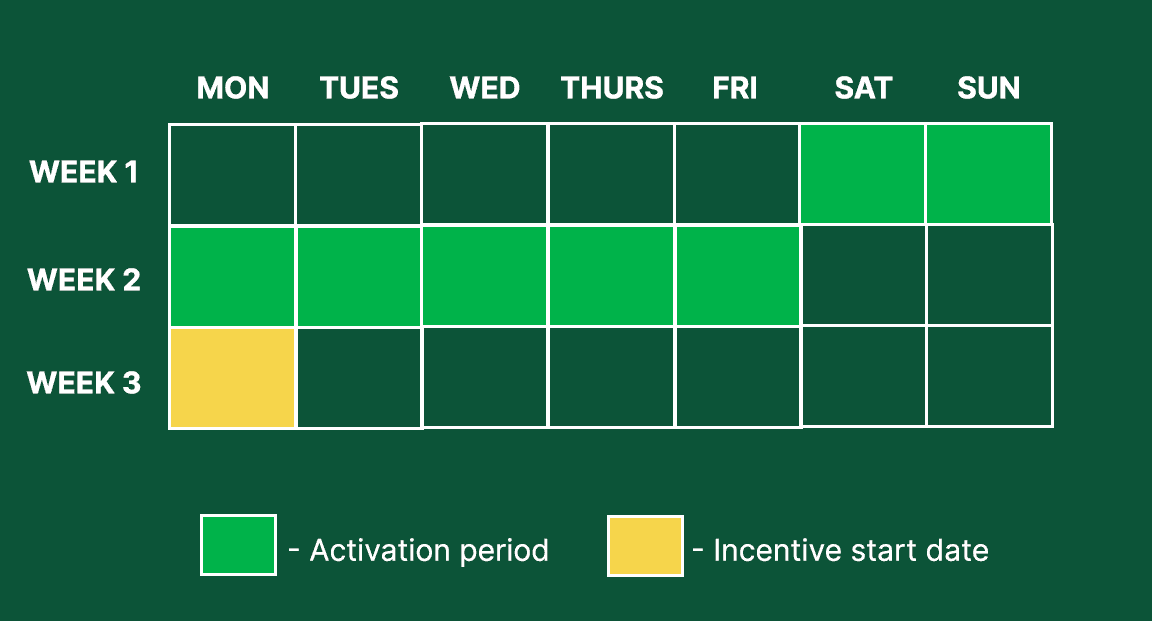 With effect from 23 February 2023, in an effort to increase the the supply pool of Driver partners and ease rising operating cost. Old COE Cars or Vehicles aged 10 years and more may proceed to apply to join Grab. For questions with regards to signing up please Contact Grab acquisition via WhatsApp chat @ +65 8241 3539. 
Grab Drivers Streak Incentive Bonus
Duration for this incentive is from January 2022 till further notice. Grab will be testing out a Streak Bonus plan to better reward and encourage driver-partners. This new pilot program is available to ALL driver-partners, not just those in the Emerald Circle. Payout will be monthly up to 100% commission rebates for auto accept trip 700 onwards, upon hitting streak 6 and other requirement.
If there are any adjustments to the plan, PHV Driver will be notified in advance by in driver app. 
The PHV driver need to complete at least 200 trips (Only Auto-accept) in that month with an Acceptance Rate (AR) of at least 90%, a Cancellation Rate (CR) of at least 10%, and a Driver Rating (DR) of at least 4.6 or higher. This the criteria to progress to higher Streak or maintaining Streak 6 for another month
Depending on you when you are PHV driver with Grab you will be starting at different streak level. If you are an existing or reactivated Driver on Jan 2022, Streak 4. if you are new driver on Jan 2022, Streak 2.


Streak Incentive Bonus Add on- Grab Rentals (GR) / Recommended Fleet Partners (RFP)
Starting October 1, 2022, PHV drivers who rented vehicles through GR or RFP will be eligible for additional commission rebates on their 400th to 700th trips. You can also read up more on whether to buy own car or lease before making a decision for GR/RFP. Accelerate your earnings with the best cars for PHV use
From trip 400 to 599: 5% Extra
From trip 600 to 700: 10% Extra

You will need to Register with GR or RFP before the final day of the current month to qualify for next month incentive.
Expired Incentives Details
Grab will announce a new incentive program for driver-partners. The new program will be called Grab Performance Rebate and will start from 1 July 2020.
The new program will replace almost all of the existing incentives. They include Upfront Commission Reduction, monthly-rated top DR and AR/CR Challenges, Diamond Tier Bonus, Birthday Rewards and Super Steady program.
All these incentives will end on 21 June 2020.
 The Grab Performance Rebate
Grab Driver-Partner commission rebate – To make it easier for our driver-partner to understand, the 12% discount does not mean you only pay 8% commission. It means 12% of 20% which works out to 17.6%. The amount of commission you will pay after the rebate is 17.6%.
GrabRental Hirer-Partners will receive an extra 8% commission rebate.
MyDestination, GrabHitch, GrabResponse and GrabExpress commissions will not be calculated as part of this program
Incentive payout will be by the 7th day of the month following the end of the quarter
Auto-Accept will be permanently switched on for all rides and deliveries.
Driver-partners who opt-out for the Auto-Accept Always-on feature will not be eligible for Grab Performance Rebate and Locations to Avoid Feature
Drivers who which to opt-out of Auto-Accept Always-on feature can complete the form in the Discover Tab of their driver-app from 19 June 2020 onwards.
How to be Eligible for Grab Performance Rebate Incentive
Cancellation Rating =<10% and Driver Rating >=4.6 and Auto-Accept Always on must be enabled.
New Locations to Avoid Feature
Grab drivers who have Auto-Accept Always On will also be able to use a new feature that let you exclude pick-ups and drop-offs from a selected area of your choice. For example, you do not want to pick up riders from the Tanjong Rhu area, you can use the feature to disable jobs from that area.
Grab Premium Incentive 
Grab Premium incentives will also be revised with effect from 22 June 2020. There will be a lower ride target to achieve the commission rebate.